A Caring Doctor and Staff You Can Trust.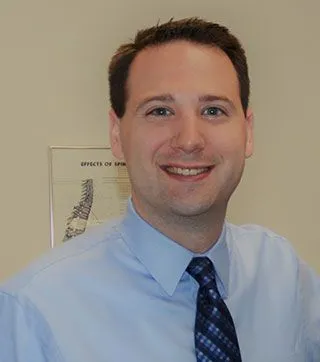 Education
Bachelor of Science in 2008, St. Ambrose University
Doctor of Chiropractor in 2011, Logan College of Chiropractic

Techniques:
Diversified
Thompson technique with drop tables
Cox flexion distraction and decompression
Electrical stimulation
Ultrasound
Traction
Exercise and rehabilitation
Whole body vibration therapy
Background
Dr. Roesler was born and raised in St. Louis, Missouri. He attended DeSmet High School and went on to play collegiate baseball for St. Ambrose University in Davenport, Iowa. He graduated with honors in 2008 with his Bachelor of Science. After his undergraduate studies in Iowa, Dr. Roesler wanted to return home to pursue his passion in chiropractic care. While at Logan, he was awarded the Health Center Achievement Award in recognition of exemplary clinical performance and academic excellence. Dr. Roesler graduated from Logan in 2011 and is a Board-Certified Doctor of Chiropractic. Since then, he has served the greater St. Louis and area helped many eliminate their toughest back and neck issues including pain from accidents, sciatica and sports injuries. Dr. Roesler has earned a reputation for excellence in the community and is deeply committed to getting people back to doing what they love.
At the Back and Neck Care Center of Olivette the golden rule is to "Treat others as you would like to be treated."
Personal
In his spare time, Dr. Roesler enjoys spending time with family and friends. He is an avid sports fan following the St. Louis Cardinals and Blues. He also enjoys various outdoor activities like golfing, biking, hunting and fishing. Dr. Roesler has been married to his wife, Julie, since 2013 and loves spending time with his two kids.
To schedule an appointment or for a complimentary consultation call The Back & Neck Care Center of Olivette at (314) 432-2220.